Planning software for managing your resources.
Plan out your human, material, and team resources effectively and simply with Dispatcher.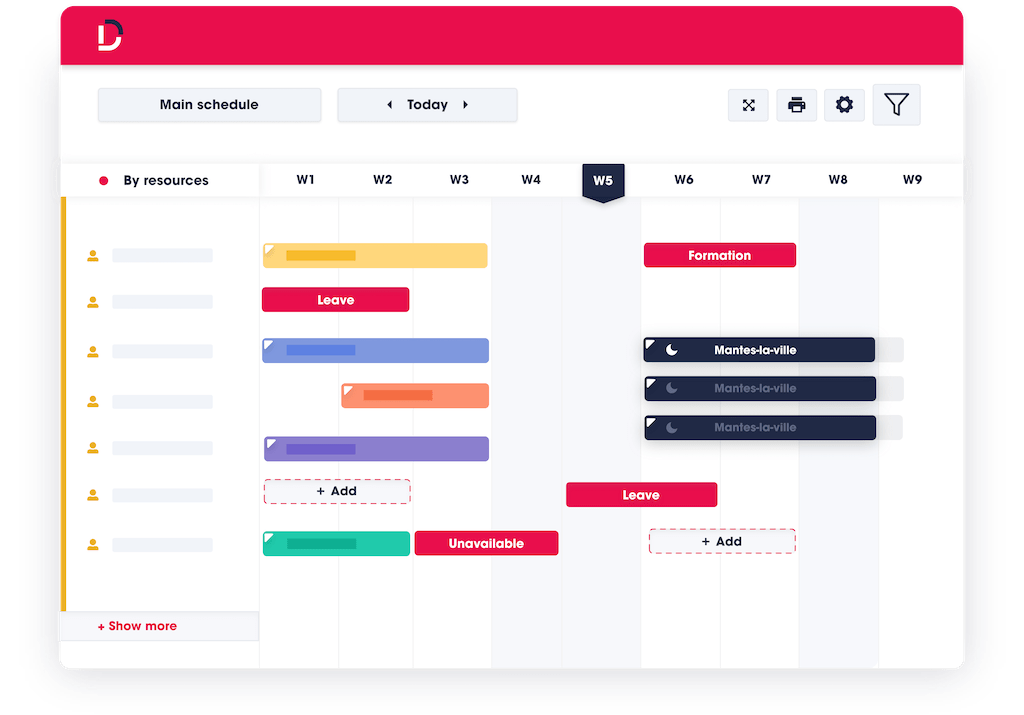 The Dispatcher planning system is a collaborative scheduling tool connecting work sites and agencies.

The software enables efficient management of available resources, allowing flexible planning based on your future needs and urgent requirements in the field.

It centralises the various schedules of your operation as well as absence schedules (training, paid leave, illness, etc.).

This allows you to avoid double entries, booking errors, and unused resources, all using a collaborative approach.
All-in-one, quick, and easy.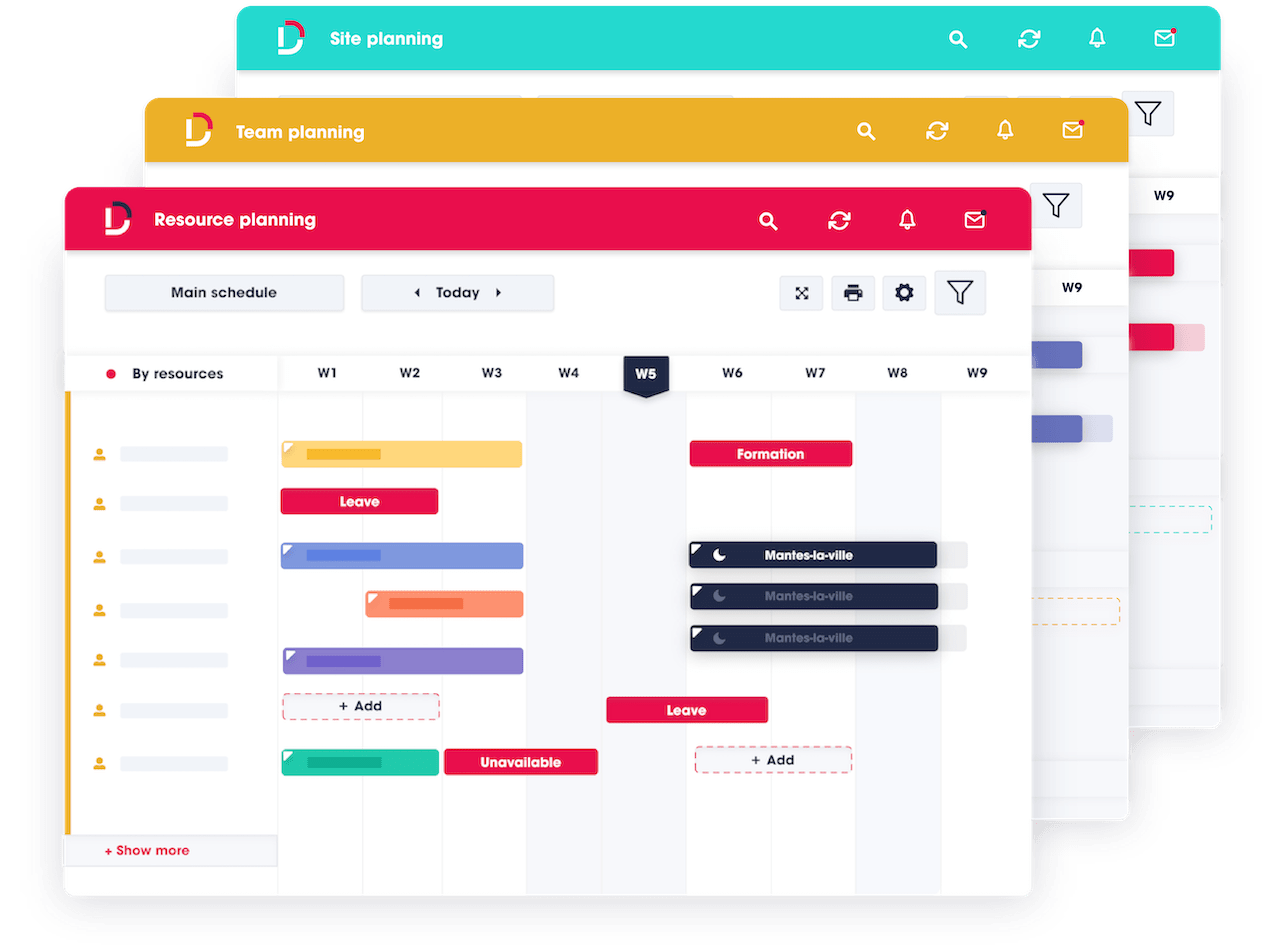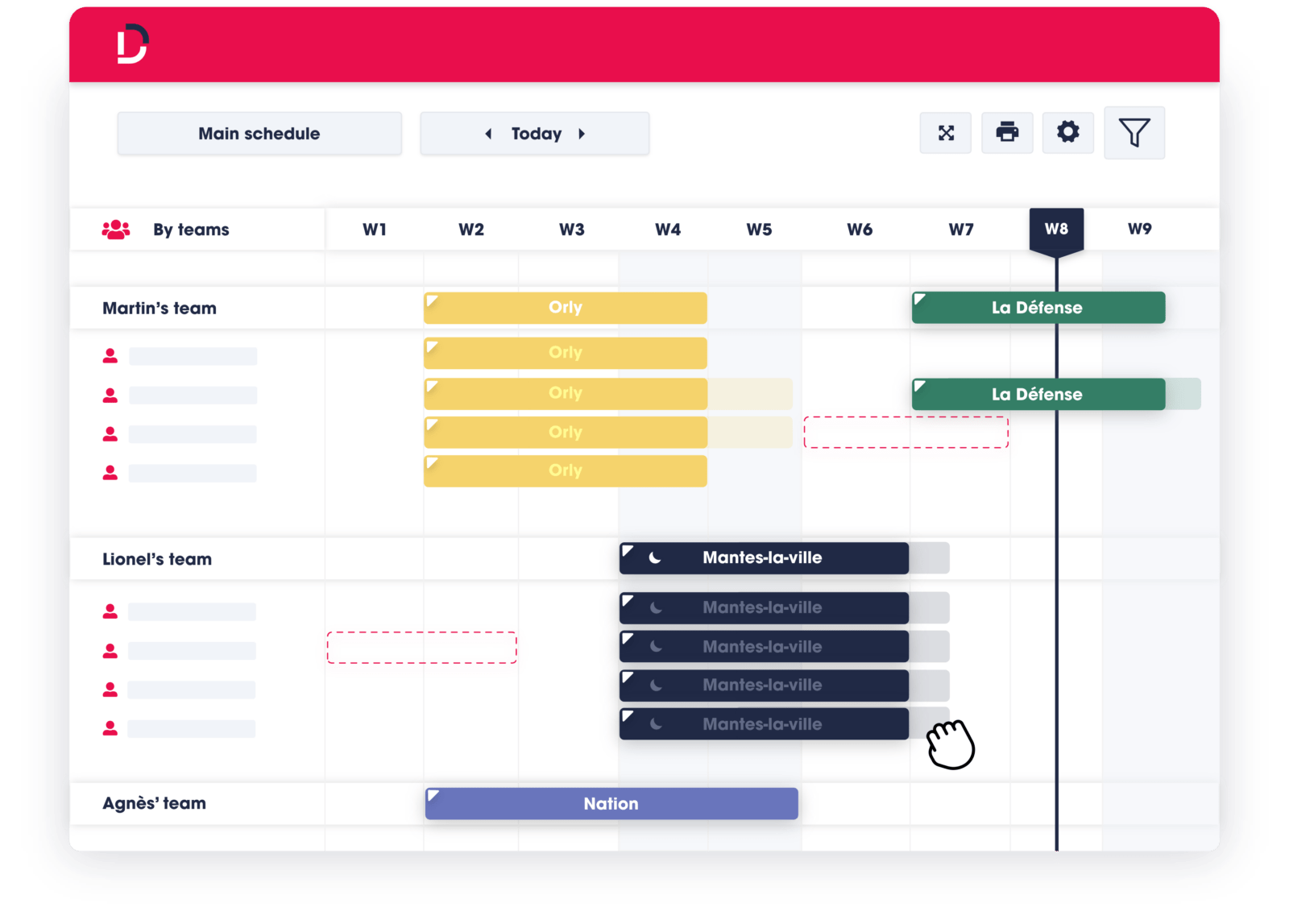 A turnkey planning solution
.
The planning system provides a 360° overview of the company's activity.
It merges all scheduling within the company for greater flexibility and transparency. Excel tables will gladly be left behind in favour of this intuitive planning system, which is customisable both in terms of configuring user rights and visual appropriation.
✓ One-off or recurring assignments
✓ Build teams of workers and equipment for quick and efficient assignments
✓ Easily add or remove staff or equipment within a team
Edit assignments intuitively, directly via the planning system.
Drag and drop, copy and paste, filter view, full screen, export in PDF format… the planning system offers numerous features and customisation options.
Quickly move an entire team from one work site to another, or expand an assignment to extend its duration.
Save time on planning and focus on the essentials!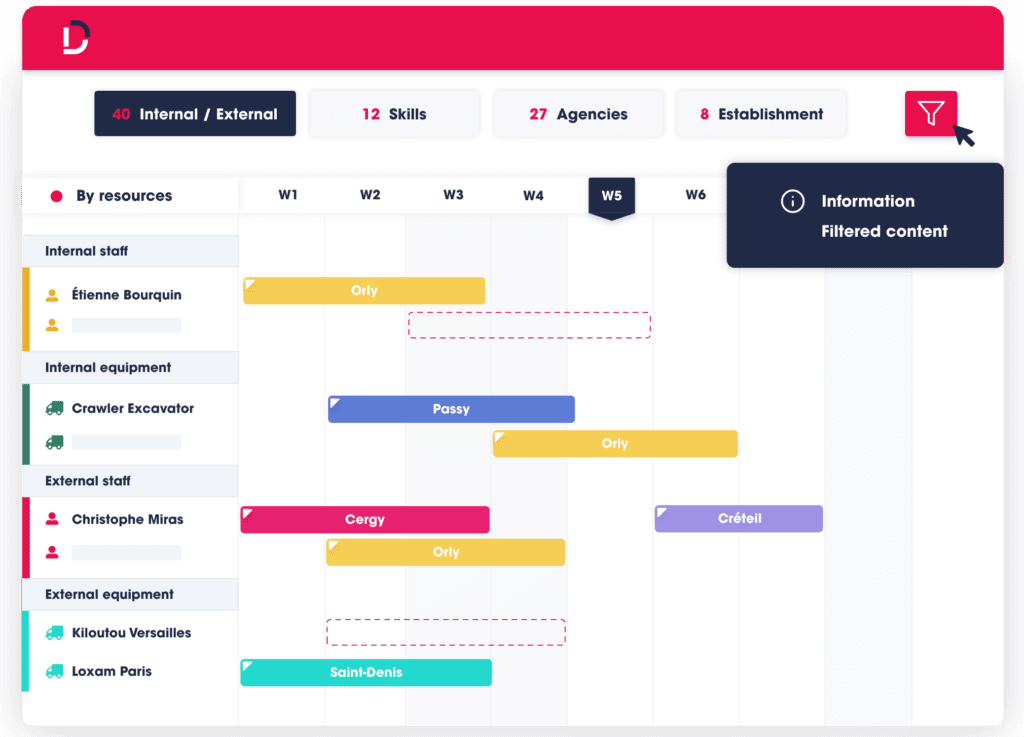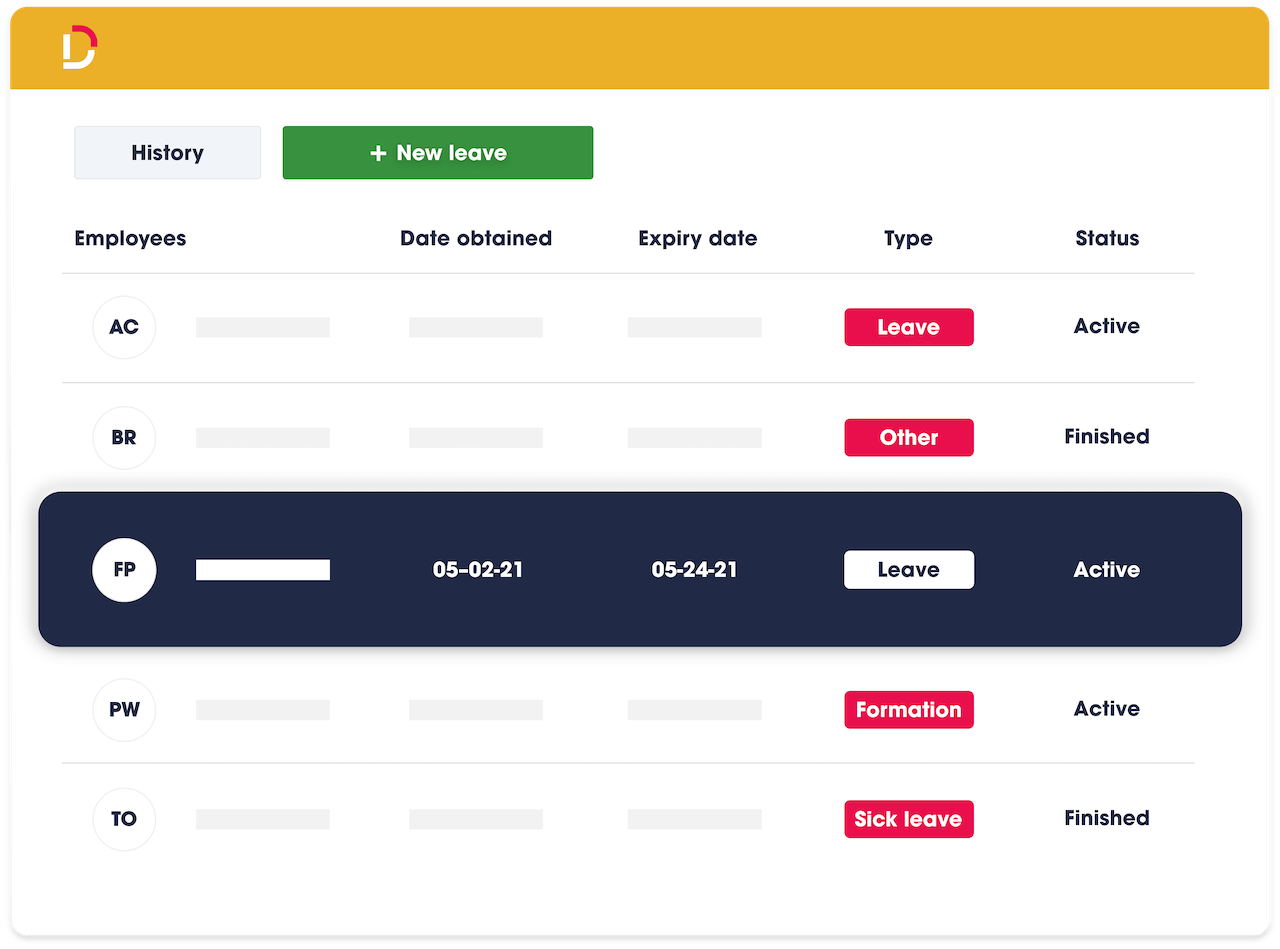 Paid leave, reduced working hours, training, illness, and other reasons: schedule your absences in a multi-coloured unavailability planning system.
Work alone or in close cooperation with your teams for improved resource optimisation and enriched data.
Why complicate things when all your planning operations can be centralised on one single platform?
Say goodbye to Excel spreadsheets with Dispatcher planning software.
What are the benefits of Dispatcher planning software
for your business?
Excel tables are extremely complex to manage: copying and pasting in all directions, limited data control, restricted checking, especially when the overall view per project and site is minimal. Errors are therefore frequent: what you need is planning software that will save you time and money.
With Dispatcher, you will be able to view your actions over the longer term. You will be able to anticipate activity overloads or reductions in good time. The short-term gains can be very fast.
Schedules are updated instantly, enabling you to reduce your workload and therefore increase productivity. You can spend less time on your files, since this perfectly designed platform is an all-in-one system with multiple modules and features. Finally, bring visibility and transparency to your projects.

Dispatcher offers you a simple and accessible database, so that you can quickly assign staff and equipment to your on-site projects.
Our customers say it best
.
"We are happy with the service offered by Dispatcher. The software is
regularly updated
with new options and services, and the team assigned to us is always
available
, helpful, and very friendly!"
"In three years, we have seen our
equipment usage rate increase
, and the use of temporary workers and independent transporters decrease. Some things are now well established, and users have appropriated the tool. We have gone beyond
our objectives with Dispatcher
. "
"This tool is a
real time saver
for me and my teams. It also saves resources and improves the organisation of our business thanks to a longer-term vision. We are able to
anticipate and pool resources
, all thanks to Dispatcher."
The modules available in the planning system
.
Modern and intuitive planning software for immediate use.
What are the best uses of the planning system?
Dispatcher planning software helps you schedule tasks for a successful project conclusion. Activity planning, visualisation of your entire workforce. The allocation of roles, skills, and tasks to be completed becomes much easier.
The planning software allows you to manage resources and teams,  and can be used to track all current projects.
"The Excel file we previously used was used by one person at a time, whereas this Dispatcher software is used in a really collaborative way. And we can use it at the same time, for example, when we're having our "Staff" meeting, Franck can change the schedule while I'm working with the other site engineers on the platform."
– Jérémie Lafarge, NGE Civil Engineering.
Reduce your workload and save time with our planning software.
Start resource planning now!
Plan ahead
and you'll never look back.