Dispatcher
modernises staff planning processes

at the NGE group

.
Exclusive feedback from the NGE group.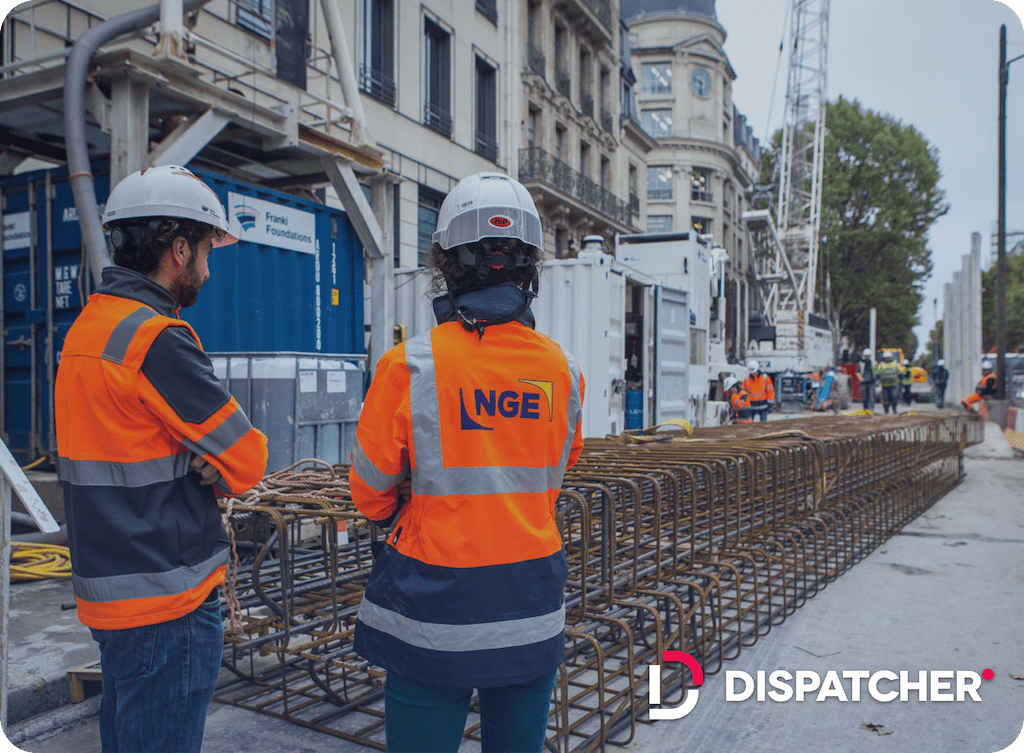 Our team was invited to the premises of the construction group NGE Civil Engineering, a loyal Dispatcher customer, for an exclusive customer feedback session. Exclusive customer feedback 🎬

Franck Cahay, AgencyDirector and Jérémie Lafarge, Director of Operations explain how the Dispatcher solution helped their entities digitise and improve performance. Complete appropriation of the solution, making its everyday use essential . The tool has been quickly deployed across all other NGE entities in the region .

"Dispatcher was immediately beneficial and very easy to use. Everything is centralised on one software system. We immediately abandoned our Excel table! "

Franck : "My name is Franck Cahay. I'm the NGE Civil Engineering Agency Director for the Industry & Environment agency in Île-de-France. NGE is a French construction and public works group. NGE stands for New Generation of Entrepreneurs We are a group of 14,000 employees in France and abroad. We're continually growing, considering the objective is to reach 20,000 employees by 2025."
Jérémie: "My name is Jérémie Lafarge. I'm the Director of Operations at NGE Civil Engineering in the Île-de-France region, and I'm in charge of NGE CE staff with Franck Cahay."
Why did you set up Dispatcher within NGE?
Franck: "Until the end of 2019, we were using an Excel spreadsheet to manage our staff planning processes. It was a very awkward spreadsheet, containing the different work sites and a list of our staff, to which we added temporary employees and the qualifications of all our staff members.

The awkwardness of the table only enabled us to have a view for the coming week, or two weeks at most, and no more, due to the table being extremely complicated to manage. We were copying and pasting all over the place, and our ability to control and check things was very limited. We only had one view per site, and we had no control over people being doubly allocated or not allocated at all.
Errors were therefore frequent and very often had to be dealt with at the last minute, with direct repercussions on site productivity. We had no medium-term visibility of our needs, so it wasn't possible to anticipate activity overloads or reductions in sufficient time. And the person responsible for updating the schedule had to put an incredible amount of time into it."
Jérémie: "What we hoped for above all when setting up Dispatcher was to have a simple and accessible database, so that we could quickly assign staff to our work sites.
One of the things we hoped for from the Dispatcher solution was staff tracking by name, in order to check that they were not assigned to several operations at once, as well as to track absences due to illness or leave, and their different operator permits and driving authorisations. The aim was to centralise the monitoring of staff, paid leave, training, and driving authorisations, all with one single piece of software."

What feedback would you give?
Franck: "When implementing Dispatcher, we had planned to operate on both systems at the same time, the Excel spreadsheet on the one hand and Dispatcher on the other, so that we could familiarise ourselves with the software and get to grips with it. In the end, that only lasted a week, because Dispatcher was immediately beneficial andeasy to use,so we abandoned our old Excel spreadsheet straight away."
Jérémie : One of the most positive aspects of our experience is that the Excel file we previously used was used by one person at a time, whereas this Dispatcher software is used in a really collaborative way. And we can use it at the same time, for example, when we're having our staff meeting, Franck can change the schedule while I work with the other site engineers on the platform."
Franck: "After a year of using Dispatcher for Civil Engineering, we decided to extend it to the other entities in the region, namely Guintoli, which carries out earthworks, and EHTP for networks, enabling us to have better visibility of overall activity in the region. This simplifies staff loans between the different entities. One of NGE's strengths is its "multi-trade" aspect, i.e. our ability to join forces to improve our performance and costs, as well as to increase customer satisfaction, and using the same planning software throughout the various entities across the region is ideal for this objective."
Would you recommend Dispatcher?
Franck: "It's a very user-friendly piece of software, which allows us to better anticipate our needs and facilitates collaborative working between the various entities in the region."

Jérémie : We are happy with the service offered by Dispatcher. The software is regularly updated with new options and services, and the team assigned to us is always available, helpful, and very friendly!"
Start resource planning now!
Plan ahead
and you'll never look back.