Gradual deployment,
at your own pace
for successful change management.
Different phases, jointly agreed, will be planned to help you with your change management.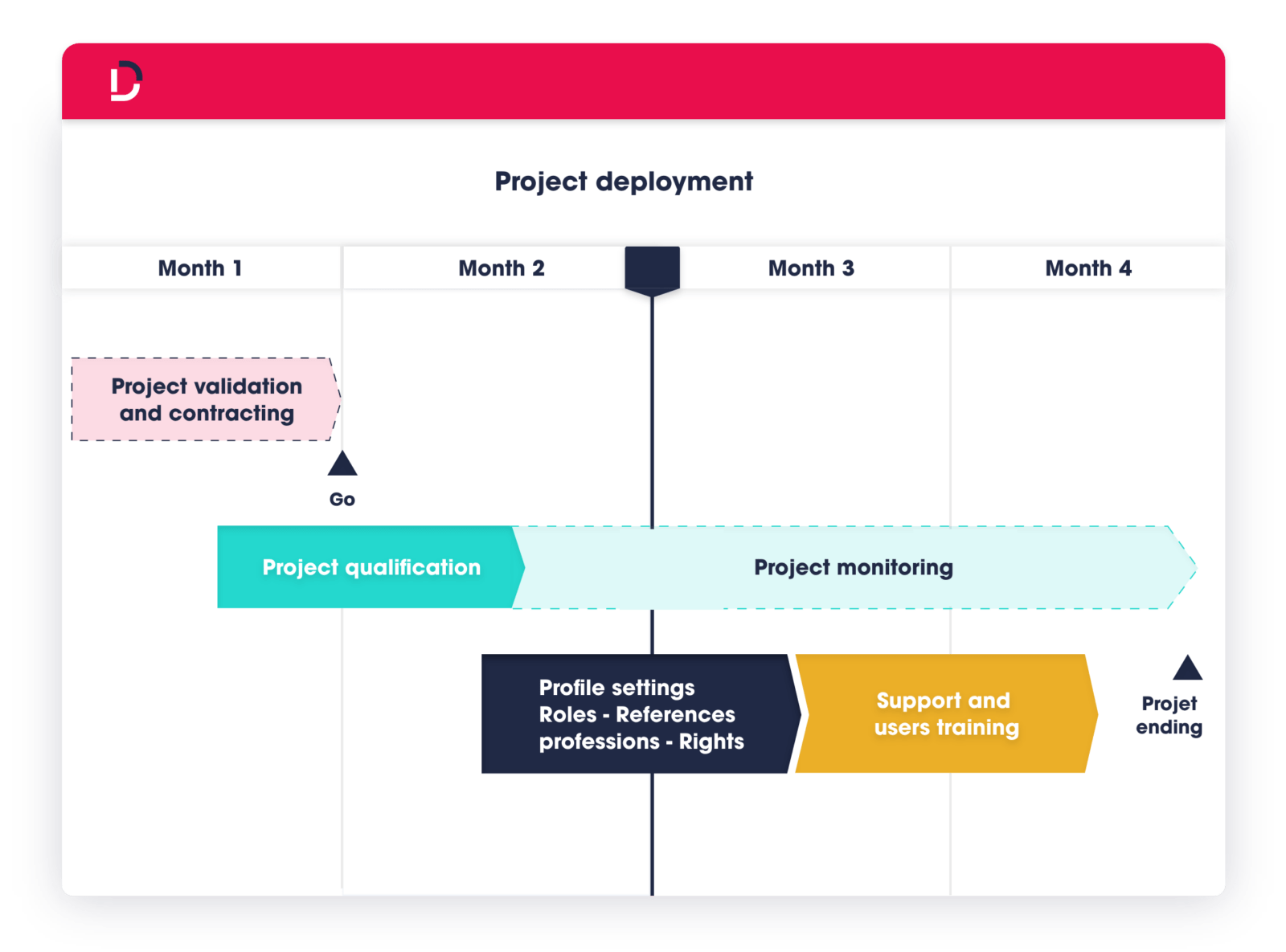 The launch strategy will depend on your objectives and project. It may concern one or more entities, simultaneously or in several phases.

✓ Together, we choose the deployment entity (one option is to start with a pilot agency).
✓ We create a sponsor/facilitator within this agency or these agencies, who will be trained to facilitate the adoption of the platform.

✓ You remain in regular contact with your project manager.

✓ We apply a change management strategy with relays to agencies and internal support channels.
We have developed a tried and tested deployment methodology, which has proven its effectiveness with major players in the sector.

✓ You are firstly placed in contact with one of our major account project managers.

✓ We analyse your organisation and implement a strategy that meets your needs and challenges.

✓ We work with your teams to ensure that the tool is closely aligned with your operational processes.

✓ Together, we define the main principles of the tool, the profiles to be configured, and the reference frameworks for skills, certifications, and equipment.
Data configuration and import
Configuring user rights and profiles is a key stage in the deployment. This is carried out with your project manager, who will help you to create the different profiles in line with your needs.These rights are not set in stone, and can be modified during your use of the tool.

Data is imported into the platform either by integration or by importing an Excel file to be completed by you, containing the information to be found on the platform (internal and/or external staff, internal and/or external equipment, and your work sites). In this way, when you conduct your training, the tool will be ready to use, with all the data you need to begin planning.
We attach great importance to providing our training in person on your premises, for an optimal training experience. Hands-on training is our mantra. Practice makes perfect, and we believe that practical use of Dispatcher is the best way to learn it. We attach great importance to appropriation of the tool. During our training sessions, all users engage in hands-on learning, so that they can start planning, consulting, and becoming familiar with the platform.

✓ User training is carried out on the platform, formatted with your data.

✓ This can be done in person or remotely.

✓ We can provide training in two stages, according to the size of the project and the different user profiles.

✓ Deployment of a training body is possible for large companies.

✓ Remote milestone planning is then used to track adoption of the tool.
Do you have an integration project?
The tool is at the cutting-edge of technology, and a robust, standardised, and scalable API catalogue is available for data recovery (fee applies). For this purpose, we have a team in charge of creating input connectors.
We also have input and output keys to allow you, if necessary, to add or retrieve data from the platform to your software. We offer read and write access to your database information by means of dedicated APIs.
Every integration is a different project. Each integration is treated as a separate project, scoped by our team and following a structured process. We have already had the opportunity to create interfaces with the following software:
Start resource planning now!
Our teams are at your service
tell us about your project.